Interested in Curling?
Guests are welcome! There are leagues and events for all ages and skill levels. Come get a little instruction and get on the ice!
Join Our Club Today
Learn More
Latest News
Nov 3
Uncategorized
BCC is excited to announce a weekly online 50/50 fundraising opportunity in partnership with Caledonia Curling Club of Pictou and Rafflebox. Each week, one lucky winner will receive 50% of the money raised.
Now, where does the other half go?
35% will go back to the Curling Club and 15% goes to Rafflebox
How does it work?
This is a online 50/50 for a number of Curling Clubs in NS.
To ensure the Brookfield Curling Club receives its share of the tickets sold, when you are purchasing your tickets, go to the "Club Selection" dropdown and choose Brookfield Curling Club
How is the money transferred from Rafflebox?
Once a month our club will receive funds raised in the name of BCC through the administrator of the Raffle: Caledonia Curling Club.
How do I enter?
https://www.rafflebox.ca/raffle/nccc
Share, share, share this with your friends and family who are online. If you have any questions, please reach out to any member of your Executive!
Nov 1
Club News
Hi everyone,
We will be holding our annual open house week beginning Monday, November 2nd from 7-9pm. Attached is the poster with dates & times. Please pass the message along to any friends/family/co-workers that may be interested! 
Nova Scotia is in Stage 4 for curling which means face masks must be worn at all times except when you are on the ice playing and when you are seated at your table after the game. You do not need to social distance while playing but we ask that you social distance before and after the game. We will have signs posted and arrows showing traffic flow directions (much like we all see at the grocery store) and sanitizing stations. Please sanitize when you come into the building and sign in on the sign-in sheet so we have a record of who was in the building in case public health needs it. We all want this season to be safe and fun.

Hope to see you all soon,
Olivia Dennis
Brookfield Curling Club Secretary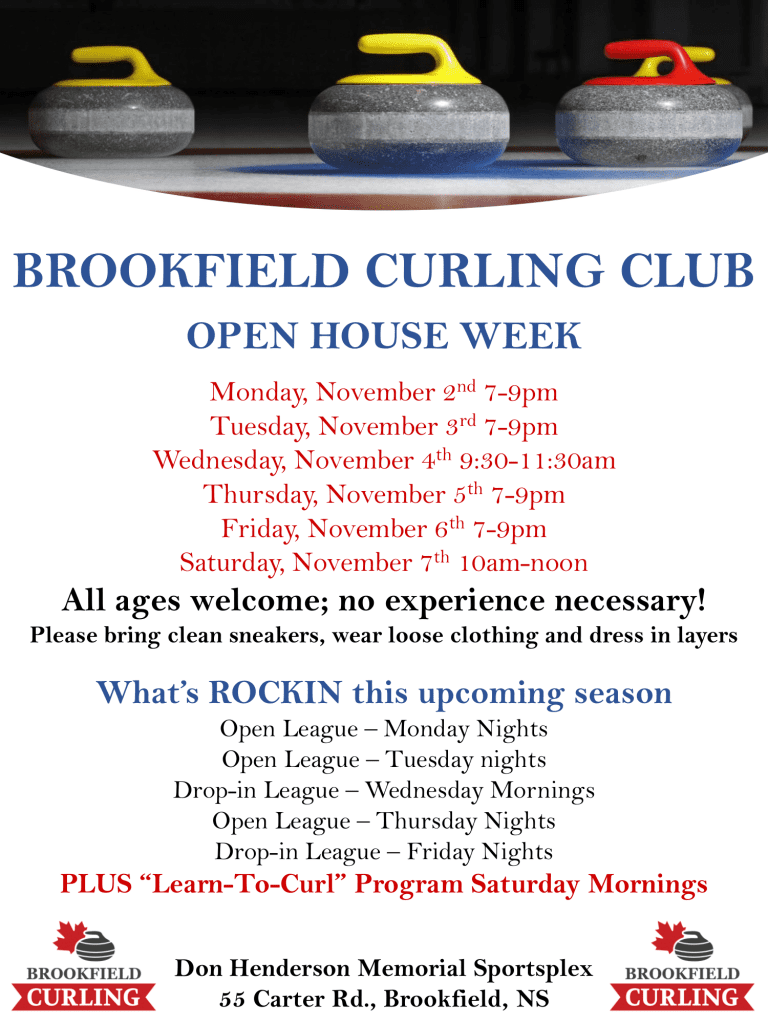 Upcoming Events
There are no upcoming events at this time.